The LTK at Home is an online program for improving literacy skills that utilizes the Orton-Gillingham approach.
It uses multisensory lessons to engage students while reinforcing learning with repetition.
The LTK is appropriate for standard ELA students, learners with disabilities like dyslexia, and ESL students.
LTK for Dyslexics at Home
The Language Tune-up Kit (LTK) at Home is an online literacy program that gives invaluable help to students with dyslexia. Students with dyslexia need extra assistance when it comes to decoding written language. The LTK uses the time-honored Orton-Gillingham Approach to make literacy instruction effective. This is accomplished by mixing various modalities during instruction, such as having students physically trace over letters as they hear and say words. This reinforces learning pathways. It also affords the students numerous opportunities for repetition, which can further imprint the learning in their brains. What's more, the LTK has an expertly crafted curriculum that presents new material at just the right time, while also using AI to customize each learner's experience.
By spending 30 minutes a day with the LTK, you will:
Gain 2-5 grade levels in weeks, not months
Build confidence and self-esteem
Develop reading proficiency and significantly increase decoding skills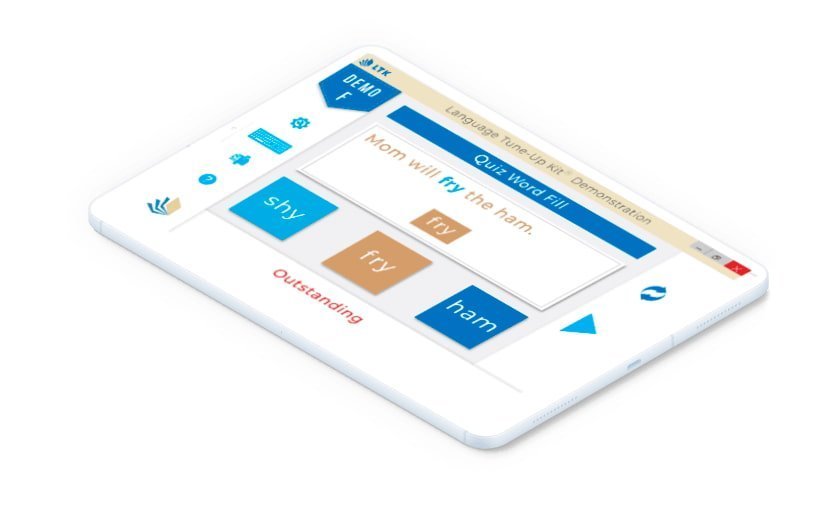 ESL learners face immense hurdles when trying to excel academically in an English setting. Fortunately, the LTK can offer ESL students the opportunity to improve their English language skills from the convenience of their own homes. The LTK gives practice in all the four key areas of language: reading, writing, listening, and speaking. Many English phonemes are not present in other languages, so the additional practice that the LTK offers can be of high value to ESL learners. 
Even for everyday ELA students, the LTK has something to offer. It can be used to brush up on skills during breaks or used to supplement coursework. The LTK can also discover weak spots that a student or their parent/guardian might not have noticed. The LTK has also been created to align with Common Core standards. Because of that, working on the LTK will keep your student in line with local and regional standards.
LTK Online has been proven to be highly effective for adults and teens with dyslexia and learning disabilities to achieve their most essential goals: 
Graduate from high school by passing the GED test 

Start and run your own business 

Understand and cope within the workplace 

Help your child with homework 

Get a better job
Price (catalog products LTK at home)
How can I help my dyslexic child at home?
If your child is dyslexic, you can help him or her by using the LTK at Home to give your child additional reading practice. You can also read to your child to help them grow an interest in reading.
How can you treat dyslexia at home?
Children with dyslexia need extra help to learn to read and write. One of the most popular techniques is to use multisensory engagement, but it still takes extra time and the presence of a dedicated tutor or specialized application like the LTK can make a big difference.
How can technology help dyslexia?
Technology can greatly help dyslexia because a computer program like the LTK can determine the student's weaknesses and make a custom curriculum based off of that. It can also help them because of text-to-speech features, which allows student to get immediate feedback on pronunciation.
How can I help my dyslexic child with spelling?
You can help a child's spelling with dyslexia by using multisensory techniques. With the LTK, students practice spelling through multiple senses like touching and hearing in order to reinforce learning.